We Were Promised Jetpacks tickets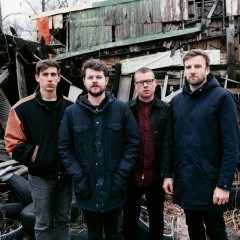 We Were Promised Jetpacks have cemented their reputation as the cult band everyone loves. This year sees them play a major Manchester gig at Gorilla on Friday 6th of December 2019.

The demand is rising along with the fans excitement so you will need to act fast and book your We Were Promised Jetpacks tickets with Gigantic before they are all taken. We make placing your gig tickets order easy as you can access our site 24/7 whilst relaxing at home or on the go using your smartphone, tablet or computer.

We also highly recommend that you set a personal reminder so that Gigantic can alert you with a text message or an email as soon as they become available at 10:00 on Friday 8th of March.




Half bracing post-punk and half tuneful indie pop, Glasgow's We Were Promised Jetpacks feature vocalist/guitarist Adam Thompson, guitarist Michael Palmer, bassist Sean Smith, and drummer Darren Lackie. The group formed while the four were still attending an Edinburgh high school, where they won a battle of the bands contest with their very first gig. After graduation, We Were Promised Jetpacks relocated to Glasgow, and their sound matured as well, moving from simple song structures and clean guitars to a more ambitious, anthemic approach. They were also inspired by fellow Glaswegians the Twilight Sad and Frightened Rabbit, and these influences could be heard on the three-song demo the band recorded, which received airplay on BBC, XFM, and Q Radio in the U.K., and KEXP in the States. In 2008, We Were Promised Jetpacks toured as Frightened Rabbit's opening act; that year, they were signed by Fat Cat Records (also home to both Frightened Rabbit and the Twilight Sad). In 2009, We Were Promised Jetpacks released two singles, Quiet Little Voices and Roll Up Your Sleeves, before their full-length These Four Walls arrived that summer. They followed up the next year with the EP The Last Place You'll Look, which featured some unreleased tracks and more orchestral rearrangements of some of the songs from their previous album. In 2011, the band returned with another full-length effort, the more driving In the Pit of the Stomach. While they toured in support of the album, they recorded E Rey: Live in Philadelphia, a live album named after the band's tour manager that was released in early 2014. During that time they also recorded their third album, Unravelling, with producer Paul Savage, which arrived in October 2014. Shortly before the album's release, We Were Promised Jetpacks added multi-instrumentalist Stuart McGachan as the band's fifth member. Their latest release is the incredible fourth album The More I Sleep The Less I Dream which you need in your life.

We are only able to offer a limited amount of We Were Promised Jetpacks concert tickets so you will need to act fast before they all go. Gigantic offers a wide range of essential gig tickets plus excellent customer service, and with over ten years of experience you can be sure we are the right place to come whenever you are booking your big night out.
We Were Promised Jetpacks
Plus Special Guests
Tue, 03 Dec 2019
Doors at 19:30
We Were Promised Jetpacks
These Four Walls Anniversary Tour
Fri, 06 Dec 2019
Doors at 18:30