Tindersticks tickets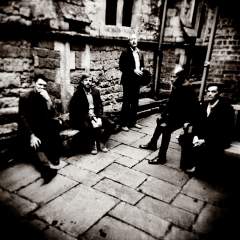 Singing Skies:
stuart A. staples and Suzanne Osborne
with an acoustic performance by tindersticks
Weds 4th June-Sat 7th June
The Space

The installation Singing Skies is an unfolding of a book of the same title which marries Suzanne Osborne's 'A year in small paintings – Skies, September 2010-September 2011' with Stuart A. Staples's song lyrics, written down for the first time. The paintings together with typed lyrics and a documentary by Martin Wallace are set within a structure created by artist Wolfgang Buttress, which provides a surface for the projection of Claire Denis' film of the paintings, with an original score by tindersticks.

tindersticks will perform a special acoustic set on the 6th Friday evening.

Singing Skies Opening
Date: Wednesday 4th June
Time: 6-8pm
Price: Free
Venue: The Space

Book your tickets for tindersticks acoustic performance on Gigantic.com.
Tindersticks
Plus Special Guests
Sun, 02 Feb 2020
Doors at 19:15