Spector tickets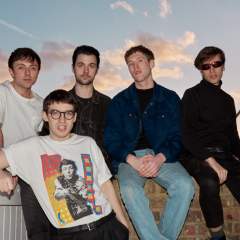 Spector are a highly accomplished synth-centric indie band. Their atmospheric songs are often moody, taking rock and roll and layering it with an electronic sound.

The band is currently made up of vocalist Frederick Macpherson, Thomas Shickle on bass, drummer Danny Blandy with Jed Cullen taking on the duties of synth and guitar.

See them take over 10 Feet Tall at Cardiff, The Cookie at Leicester and The Bullingdon at Oxford in November 2019.

Gigantic is thrilled to be able to offer you Spector tickets. But as the word spreads the demand grows. So, make sure you are quick off the mark and book your tickets before they are all taken. Placing a booking is made easy as you can visit Gigantic 24/7 using a tablet, computer or smartphone whilst relaxing or when on the go.

We know that it is easy to let things slip your mind, and so Gigantic allows you to set a personal reminder which will alert you with either a text message or an email just prior to the release of your essential gig tickets at 09:00 on Friday 7th of June.

Spector

Wed, 30 Oct 2019
Doors at 19:00
Contact venue for tickets[wl]
Spector
+ Nactus Kunan
Sat, 02 Nov 2019
Doors at 19:00
Sold Out[wl]
Spector

Mon, 04 Nov 2019
Doors at 19:30
Contact venue for tickets[wl]
Spector
Plus The Rhythm Method
Tue, 12 Nov 2019
Doors at 19:30