Pulled Apart By Horses tickets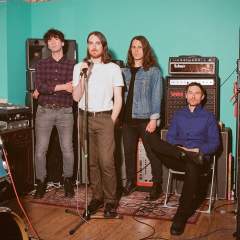 Pulled Apart By Horses have announced that they intend to release a new album within the next twelve months. They will show off the new material with gigs at The Cookie at Leicester and Le Pub in Newport during Autumn.

The band began in 2008 after meeting in an online forum and began by practicing above popular local venue The Packhorse pub. They electrified audiences and were soon signed, releasing their eponymously titled debut album in 2010. It was followed by second album Tough Love in 2012 and Blood a further two years later and The Haze in 2017.

Pulled Apart By Horses tickets will sell incredibly fast so you need to be ready for their release. They become available at 10:00 on Friday 31st of May and you can set a personal reminder with Gigantic right now to arrive via text message or email.
Sorry we currently have no dates available for Pulled Apart By Horses.