New Model Army tickets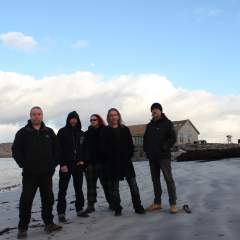 The music of New Model Army transcends genres by being stridently anti-commercial. Perhaps predominantly a punk band, their sound draws upon elements of goth rock, metal and post-punk.

The English post-punk/alternative rock band formed in Bradford, West Yorkshire in 1980 by its lead singer and main composer Justin Sullivan and one of his longest-term band members, Robert Charles Heaton.

Confrontational, passionate, intelligent and loud. The band's music talks of societal problems, politics and anger. But unlike other bands of their ilk from the period, they were not part of the comfortable liberal left, or the easy listening protest song that can be easily sucked into mass culture and used on adverts.
See them play at O2 Institute Birmingham on Saturday 23rd of November 2019.

New Model Army tickets are on sale now but will not be around for long. Book yours before they are gone.


The band was first started by Justin Sullivan, Stuart Morrow and Phil Tompkins in 1980. The Bradford trio began by gigging round the country before recording. Early singles Bittersweet and Great Expectations were championed by John Peel upon their 1983 release and assisted in winning them a TV appearance on The Tube. There they would play the controversial song Vengeance, a song that decried Nazi Gestapo Klaus Barbie who had used his contacts with the wealthy and influential to escape facing trial for his crimes against humanity. The song became the centrepiece of their debut album which was given the same title.

The bands ability to take an unflinching look at the difficult and unjust served them well during the eighties, a decade that has now become synonymous in British history with discord and strife. Their music, with its lyrics of anger and doom laden angst, suited an era of Cold War and recession.
Enjoying a massive rise in popularity, the band were snatched up by major labels EMI and Epic and have recorded an outstanding thirteen studio albums.

Today the band is comprised of founding member Justin Sullivan and long term member Robert Charles Heaton. They are enjoyed by hardcore fans as well as an ever younger audience who tap into the hard messages of the band, and acts as a testament to the enduring value of their music.

New Model Army concert tickets are available online through Gigantic but are expected to sell quickly so book early or risk missing out. Stick with us for a great experience getting the gig tickets you need.
New Model Army
Plus Special Guests
Wed, 13 Nov 2019
Doors at 19:00
New Model Army
Plus Special Guests
Electric Ballroom, London
Thu, 14 Nov 2019
Doors at 19:00
New Model Army

Cambridge Junction, Cambridge
Fri, 15 Nov 2019
Doors at 19:00
New Model Army

Sun, 17 Nov 2019
Doors at 19:00
New Model Army

O2 Institute Birmingham, Birmingham
Sat, 23 Nov 2019
Doors at 18:00
New Model Army
Plus Special Guests
Thu, 12 Dec 2019
Doors at 19:30
New Model Army

Sat, 21 Dec 2019
Doors at 18:30