Muse tickets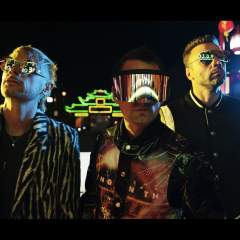 Muse is an alternative rock band from Teignmouth, UK. The band consists of Matthew Bellamy on lead vocals, piano, keyboard and guitar, Chris Wolstenholme on backing vocals and bass guitar, and Dominic Howard on drums and percussion.

With the release of their eighth studio album Simulation Theory comes word of two massive arena gigs. You will get your chance to see their out of this world shows at London Stadium and Etihad Stadium in Manchester during June 2019.

Everyone is after Muse tickets, so with the demand so high you will need to make sure you book yours quickly as they will go. Gigantic makes selecting and booking your chosen gig tickets easy by enabling you access to our site 24/7 using your computer, smartphone or tablet from the comfort of your home or whilst you are busy and on the go.

We highly recommend that you put yourself ahead of the rest, by setting a personal reminder with Gigantic right now so that we may alert you with a text message or an email when they become available at 10:00 on Friday 16th of November.



Known for bombastic live shows that take audiences on epic journeys through music and sound, Muse is a band that puts on a performance like none other. Of course, an over-the-top performance makes sense for a band that defies genres, blends musical genres and rewrites borders and history with every album it records. Muse has been at the forefront of music for years, and their latest album continues to push the very concept of rock music into new territory. Champions and pioneers, Muse is a show not to be missed!

U.K. rock band Muse has built a reputation of live performances that captivate audiences equally with their dynamic musical performances and impressively extensive light shows that continually transform the stage with an array of moving video screens. Such technological innovations seem like the concert experience of the future, and audiences expect nothing less from a band who wields a sound of the future. Although Muse's first and foremost objective is to give fans spectacular live renditions of their beloved albums, the band seeks to amplify the concert experience, and that's what makes their shows so exhilarating.

Muse's fusion of progressive rock, glam, electronica and Radiohead-influenced experimentation is crafted by guitarist/vocalist Matthew Bellamy, bassist Chris Wolstenholme, and drummer Dominic Howard, three Brits with an uncanny knack for doing the unthinkable in music. Bored by the sleepy life in their hometown of Teignmouth, Devon, the three friends began playing music together. They started the first incarnation of their band when they were only 13-years-old, and since then they've gone on to become one of the most prolific, iconic bands onstage today.

Muse concert tickets are on sale for this event with Gigantic right now. They are expected to sell very quickly so book yours before they are all gone.

With only limited supplies of Muse gig tickets available, you do need to book early or risk missing out on seeing this rare talent play live for yourself. Stick with Gigantic to get a great service in booking all your essential gig tickets.


Sorry we currently have no dates available for Muse.