Hilltop Hoods tickets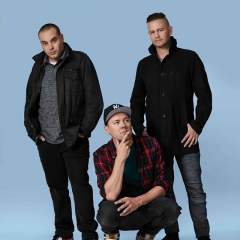 Australian hip hop group Hilltop Hoods and Illy will be taking over KOKO in London on Thursday 17th July as part of the group's 2014 world tour.

The hip hop outfit formed way back in 1991 in Adelaide and consist of MC Suffa, MC Pressure and DJ Debris. While the band formed early in the '90s the group's debut album 'A Matter of Time' wasn't released until 1999. The wait to break into the music scene seemed to pay off with the group's third studio album 'The Calling' in 2003 going Platinum, which then paved the way for the Hilltop Hoods' next three records to go Platinum too and in the case of 2009's 'Sate of the Art' and 2012's 'Drinking from the Sun' the albums went double-Platinum!

Book your Hilltop Hoods tickets via Gigantic below.
Hilltop Hoods
Plus Special Guests
Wed, 09 Oct 2019
Doors at 19:00
Contact venue for tickets[wl]